Maid Kyouiku Botsuraku Kizoku Rurikawa Tsubaki The Animation 01 (English Sub) | Download
メイド教育。 -没落貴族 瑠璃川椿- THE ANIMATION
Romaji:
Maid Kyouiku Botsuraku Kizoku Rurikawa Tsubaki The Animation 01
Japanese:
メイド教育。 -没落貴族 瑠璃川椿- THE ANIMATION
Release:
26.05.2023
Censored:
Yes
Subbed:
English
Rating:

8.5

8

Tags:
The prestigious aristocratic "Rurikawa" family has fallen...
Tsubaki, the daughter of the nobleman and a beautiful girl, is picked up by Sir Poiman, a powerful nobleman and begins a new life ...but as his personal "maid".
Tsubaki, however, is thoroughly tortured and defiled by her master's perverted "maid education," both in mind and body and is ruthlessly subjected to unwanted climaxes.
In order to become a full-fledged "maid," "fallen aristocrat Rurikawa Tsubaki" will fall to any extent...
Hentai Movie Downloads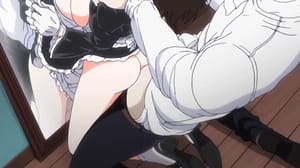 243.33 MB